Apple-Walnut Stuffing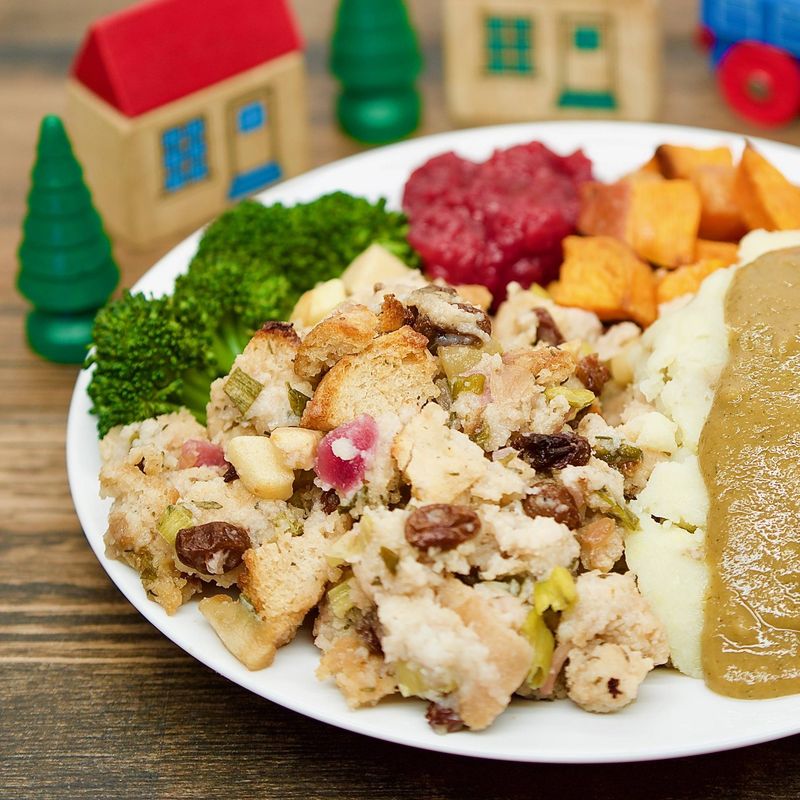 We had a wonderful time feasting with our family and friends. We made a double batch of stuffing and it was gone much too quickly. My favorite part of the meal was the Coconut Cornbread and stuffing smothered in orange cranberry sauce, and the creamy mashed potatoes covered with Beany Gravy, and the Tofu Cutlets, and the salad smothered in Tahini Dressing. My mouth is watering just thinking about all of that!
Ingredients:
10 slices whole-grain bread
1 medium-sized onion (chopped)
2 apples (peeled and chopped)
6 green onions (chopped)
½ cup walnuts (chopped)
¼ cup raisins
¾ teaspoon salt
½ teaspoon dried thyme
½ teaspoon dried savory
¼ teaspoon black pepper
1 ½ cups apple juice
2 Tablespoons apple cider vinegar
Directions:
Preheat the oven to 350 degrees F.
Bake the bread on a cookie sheet until it becomes dry and lightly brown (10 minutes or so). Chop into cubes and place in a mixing bowl.
In a skillet, cook the chopped onions in about ¼ cup of water until they begin to soften. Add the apple and cook a few minutes more.
Add the onion, apple, and remaining ingredients (except the apple juice and vinegar) to the bread cubes and mix thoroughly.
Mix the apple juice and vinegar together, then pour over bread mixture. Stir thoroughly.
Place in a glass 8 x 8" dish (or similar size) and bake 30 minutes, stirring halfway.
This stuffing was inspired by Karen Alexander's recipe in "Kitchen in the Clouds."