Tempeh Veggie Tacos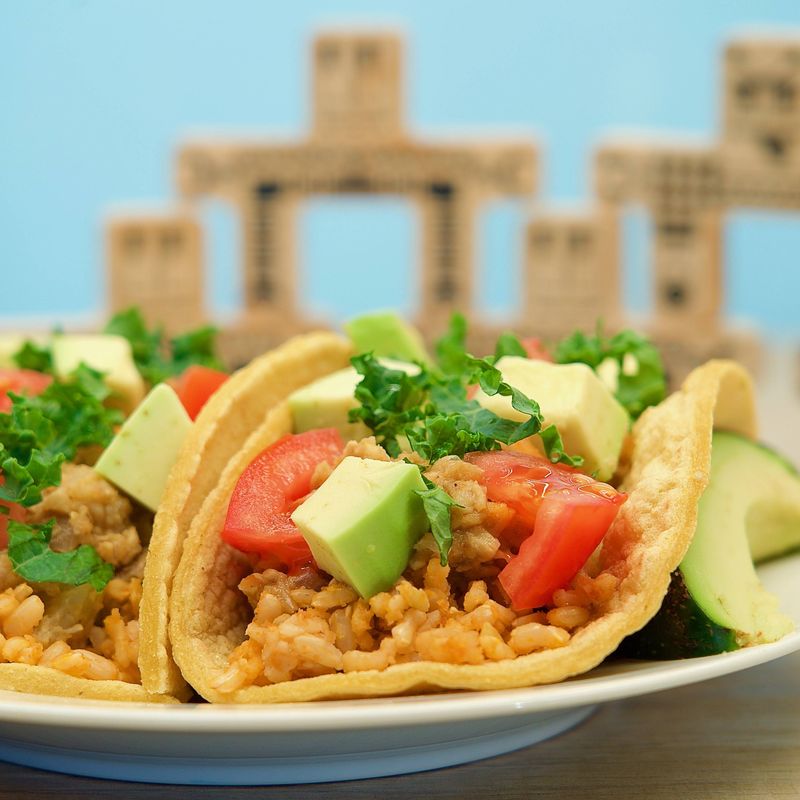 This recipe is super easy to make, completely oil free, and really delicious wrapped up in corn tortillas. We enjoy topping our tacos with chopped tomatoes, avocado, and lime juice, but feel free to add salsa, lettuce, cheese sauce, or whatever your heart desires. Enjoy!
Ingredients:
8 oz tempeh (finely chopped)
1 cup onion (chopped)
4-5 garlic cloves (chopped)
½ cup water
1 teaspoon each: chili powder and cumin
½ teaspoon each: paprika and salt
3 cups veggies (chopped) (i.e. zucchini, bell pepper, mushrooms, carrot, etc.)
2 Tablespoons lime juice (optional)
Toppings: tomatoes, avocados, salsa, cheese sauce, etc. (optional)
Directions:
Place the chopped tempeh, onion, garlic, and water in a skillet, cover, and place on medium heat. Once it is steaming away, stir, and place on medium-low.
Cook for 10 minutes, stirring a few times. If it is sticking to the bottom of the skillet, add a few more tablespoons water to the skillet, as needed.
Add the spices and chopped veggies, stir to combine. Cook 10-15 minutes (covered) until the veggies are thoroughly cooked, stirring a few times.
Remove the cover, add the lime juice (optional), stir, and cook a few extra minutes if there is extra moisture to steam off.
Serve on corn tortillas and top with chopped tomatoes, avocados, and salsa (or anything else you enjoy)!
Yields: about 4-6 servings