Tempeh Tacos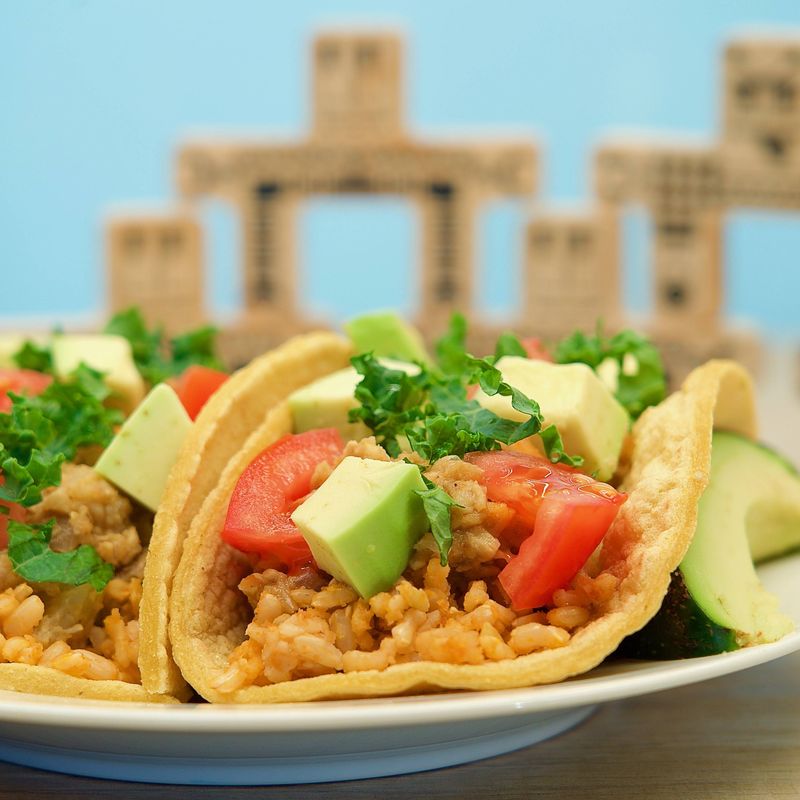 This recipe is quick to make and delicious mixed with Spanish Rice (recipe below) and wrapped up in a corn tortilla. We enjoy topping our tacos with chopped tomatoes, avocado, salsa, lettuce, and cheese sauce. Enjoy!
Ingredients:
8 oz tempeh (finely chopped)
1 cup onion (chopped)
4-5 garlic cloves (chopped)
½ cup water
1 teaspoon each: chili powder and cumin
½ teaspoon each: paprika and salt
3 cups veggies (chopped) (i.e. sweet potato, cauliflower, zucchini, bell pepper, carrot, etc.)
2 Tablespoons lime juice (optional)
2 Tablespoons coconut oil or other oil (optional)
Toppings: tomatoes, avocados, salsa, cheese sauce, etc. (optional)
Directions:
Place the chopped tempeh, onion, garlic, and water in a skillet, cover, and place on medium heat. Once it is steaming away, stir, and place on medium-low.
Cook for 10 minutes, stirring a few times. If it is sticking to the bottom of the skillet, add a few more tablespoons water to the skillet, as needed.
Add the spices and chopped veggies, stir to combine. Cook 10-15 minutes (covered) until the veggies are thoroughly cooked, stirring a few times.
Remove the cover, add the lime juice and coconut oil (both optional), stir, and cook a few extra minutes if there is extra moisture to steam off.
Serve on corn tortillas and top with chopped tomatoes, avocados, and salsa (or anything else you enjoy)!
Tempeh Yields: about 4 servings
Spanish Rice Ingredients:
1½ cups brown rice (long or short grain)
4 cups water
2 Tablespoons tomato paste
2 Tablespoons coconut oil or other oil (optional)
salt to taste
Directions:
Place the rice, water, and tomato paste in a medium-sized pot and stir thoroughly.
Bring it to a boil, cover, and place on low heat.
Cook for 50-55 minutes, or until all of the water is absorbed.
Stir in the coconut oil (optional) and sprinkle with salt to taste.
Rice Yields: about 4 cups