Unbaked Berry Cobbler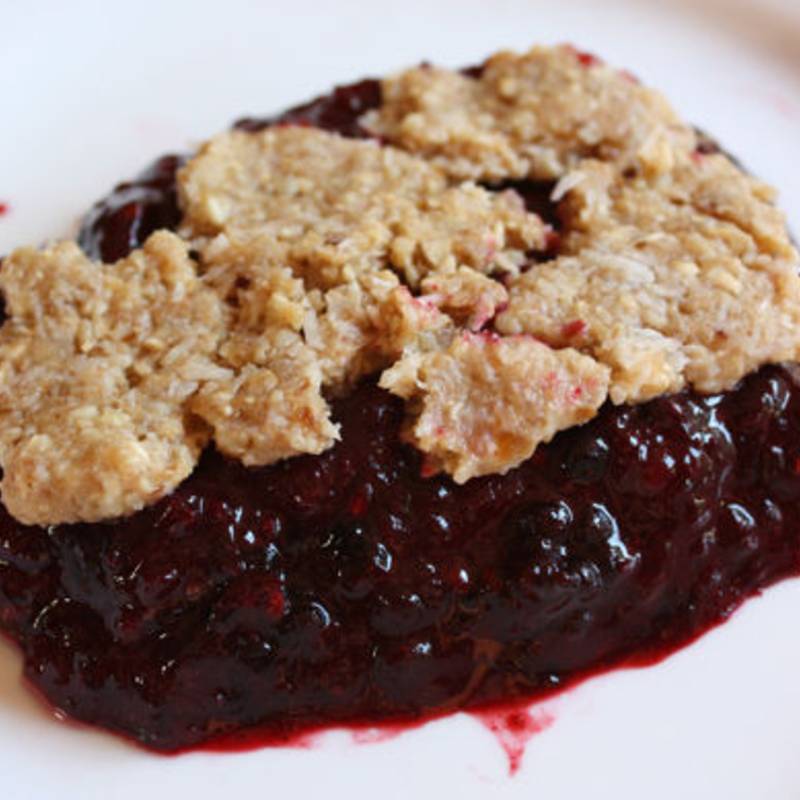 A few days ago Eric and I were foraging in the neighborhood and we picked a bucket of blackberries less than a mile from our house! Since the weather has been pretty hot I haven't wanted to turn on the oven... so I whipped up an unbaked cobbler, and it definitely hit the spot. I topped it with some So Delicious Vanilla Ice Cream and it was awesome! If you don't have blackberries, this cobbler would be great with strawberries, blueberries, raspberries, you name it! Hope you are stayin' cool out there.
Ingredients:
4 cups berries (fresh or defrosted)
½ cup medjool dates (pitted and packed)
1 Tablespoon lemon juice
1 cup rolled oats
½ cup almonds (or other nuts or shredded coconut)
½ cup medjool dates (pitted and packed)
¼ teaspoon salt
2-4 Tablespoons water
Directions:
In a food processor, place 2 cups of berries, ½ cup of medjool dates and the lemon juice and process until smooth.
Spoon the berry mixture into an 8 x 8-inch (or similar sized) glass dish. Add the remaining 2 cups of berries to the dish, and stir well.
Wipe out the food processor, add the oats and almonds and process until finely ground.
Add the remaining dates and salt to the processor and thoroughly process.
Add 2 T water and process until the whole mixture sticks together. Add more water if needed.
Spread the oat mixture on top of the berries with your hands. It's fine if clumps remain. The pie is ready to be served. Or place it in the refrigerator for later.
Serves: about 4