Strawberry Shortcake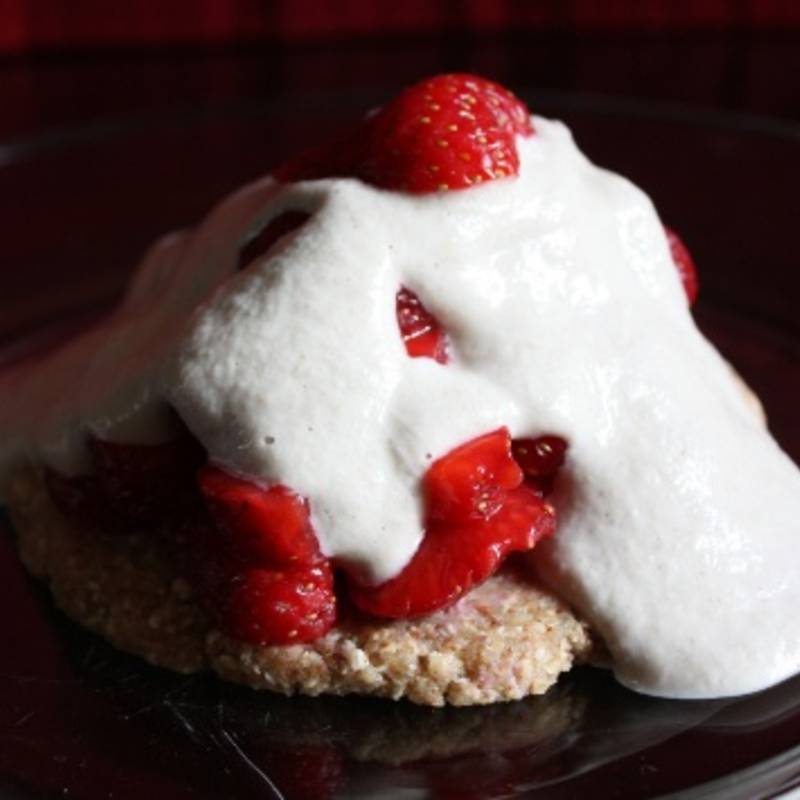 It's strawberry season and this is one of our favorite ways to enjoy them. This recipe doesn't require baking like traditional shortcake, so it is quick to assemble. The crust and topping are modestly sweet to highlight the natural sweetness of summer strawberries.
Crust ingredients:
1 cup rolled oats
½ cup raw almonds
2 medjool dates (pitted)
3 Tablespoons water
3 cups sliced strawberries
Directions:
Place the rolled oats, almonds, and dates in a food processor and process until finely ground like a flour.
Add the water and process until it sticks together. Add more water if needed.
Break ball of dough into 6 even pieces and press each one by hand into small bowl or plate to form the crust.
Top each crust with ½ cup strawberries.
Coconut Cream ingredients:
½ cup raw cashews
½ cup coconut shreds
4 medjool dates (pitted)
1 cup water
½ teaspoon vanilla
Directions:
Combine all ingredients in a blender and blend until smooth. You can add a little more water if needed, but be sure to keep it as thick as possible.
Pour 1/6 of the cream onto each shortcake.
Yields: 6 servings