Roasted Veggie Enchiladas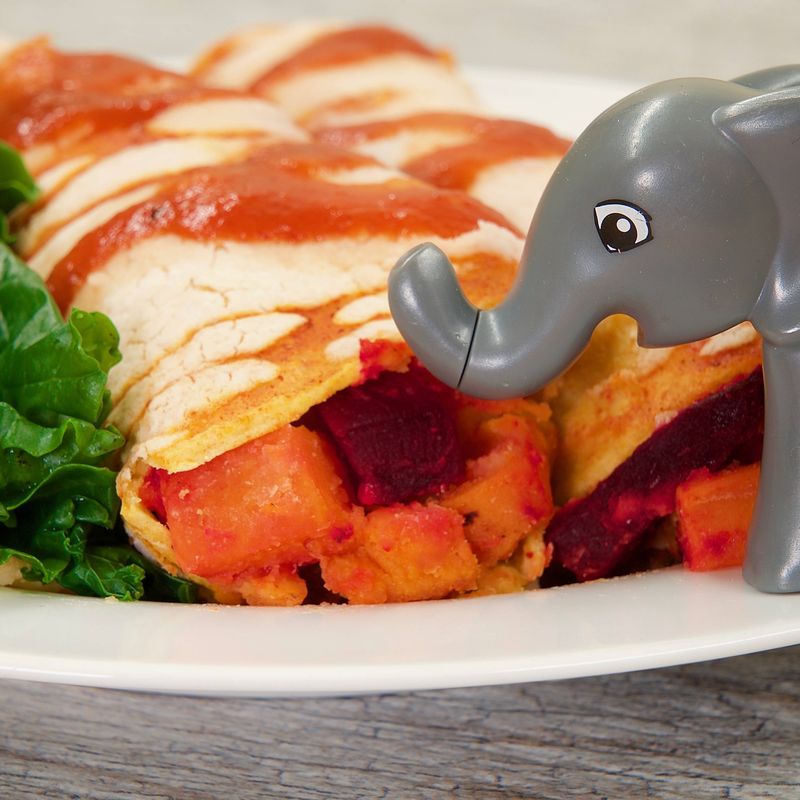 We were looking through some old VegNews magazines and stumbled upon a recipe that inspired this creation. The mag's recipe calls for a cashew cream filling to coat the roasted veggies, but we made a bean filling instead. The roasted sweet potatoes and beets create a super tasty and sweet filling. Our favorite sweet potato is the Garnet Yam. They are orange, creamy, and delicious in this recipe!
Enchilada ingredients:
5 cups sweet potatoes (peeled & chopped)(about 3 medium-sized potatoes)
2 cups potatoes (peeled & chopped)(about 2 medium-sized potatoes)
1 ½ cups onion (chopped)(about 1 large onion)
1 cup beets (peeled & chopped)(about 1 large beet)
2 Tablespoons coconut oil or olive oil
2 teaspoons cumin
1 teaspoon each: garlic and onion powder
½ teaspoon salt
10-12 corn tortillas
1 cup enchilada sauce
Directions:
Wash, peel and dice the potatoes, beets, and onions in about ½ inch pieces.
Toss in a bowl with coconut oil and then add seasonings.
Evenly spread on two oiled cookie sheets and bake at 425 degrees for 30-40 minutes (flipping halfway), or until soft.
Allow to cool for a few minutes. Mix bean cream filling (recipe below) with veggies in a bowl (leaving a little left over bean cream for the topping).
Coat each side of the tortilla with a little enchilada sauce and then spread ⅓-½ cup of filling into the tortilla.
Roll tightly and place seam-side down in an oiled 9x13" glass baking dish. Continue with all tortillas.
Pour remaining enchilada sauce over top and drizzle remaining bean cream sauce.
Bake uncovered at 350 degrees for 15 minutes (until thoroughly heated).
Bean Cream Filling ingredients:
1 cup navy beans (or any white bean)
¾ cup water
2 Tablespoons tahini or coconut butter
2 Tablespoons lemon juice
1 teaspoon each: garlic and onion powder
½ teaspoon salt
Directions:
Blend all ingredients together in a blender (add additional water if needed for smooth consistency).
Yields: 10-12 enchiladas and possibly a little extra roasted veggie filling.