Raw Apple Date Pie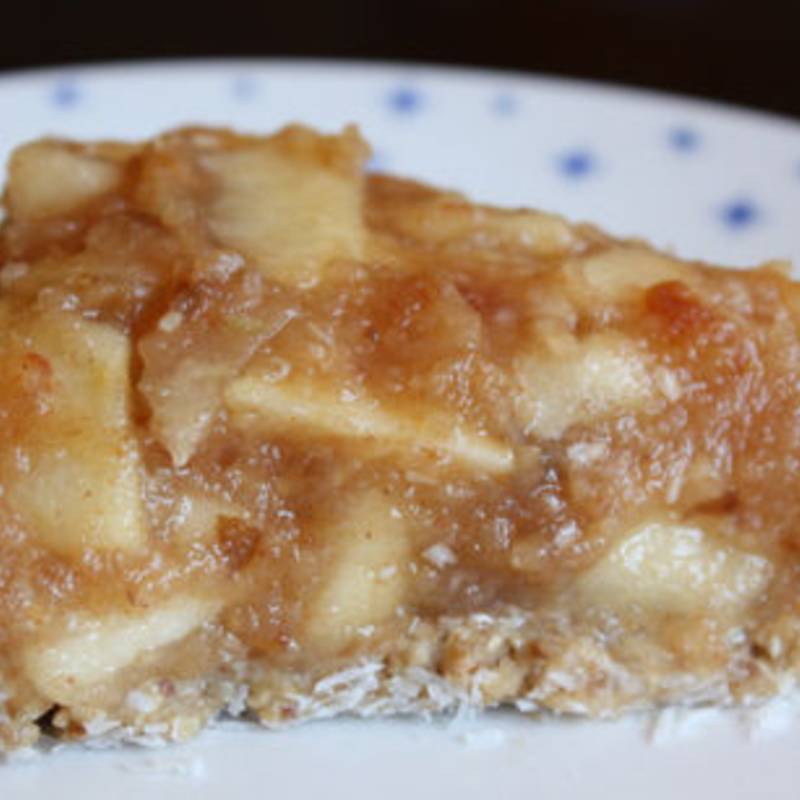 I love apples this time of year, especially really sweet and crisp varieties. I'm not a big fan of soft apples or really tart ones. But that's just me! Since apples are in abundance right now, why not whip up this delicious and simple raw apple pie? It's easy to make, so you'll be devouring it in no time! If you want to mix it up and add pears or dried fruit like raisins or cranberries, I say go for it!
Raw Crust ingredients:
1 cup almonds (or other nuts)
6 medjool dates (pitted)
pinch salt
3 Tablespoons coconut shreds
Directions:
Place the almonds in a food processor and pulse until finely chopped.
Add the dates and salt and process until well combined. Add an additional date or two if the mixture needs more moisture to stick together.
Evenly sprinkle the coconut shreds into the base of a 9-inch (or similar size) pie plate. (This will keep the crust from sticking to the pie plate.)
Knead the crust with your hands and flatten it with your palms. Place it in the pie plate and evenly spread it with your fingers to cover the whole base and press it up to the edges. It's now ready to be filled.
Filling ingredients:
4 apples (peeled, cored and thinly sliced)
2 Tablespoons lemon juice
3 apples (peeled, cored and chopped)
⅔ cup medjool dates
2 Tablespoons lemon juice
½ teaspoon cinnamon
Directions:
In a mixing bowl, combine the sliced apples and 2 Tablespoons of lemon juice.
In the food processor, add the chopped apples, dates, 2 Tablespoons of lemon juice and cinnamon and process until pretty smooth.
Spoon the processed mixture into the bowl with the sliced apples, and mix thoroughly.
Spoon this apple filling directly into the crust. The pie is ready to be served. Or cover it and keep it in the refrigerator for up to three days.
Yields: about 8 servings