Pad Thai - Veggie Style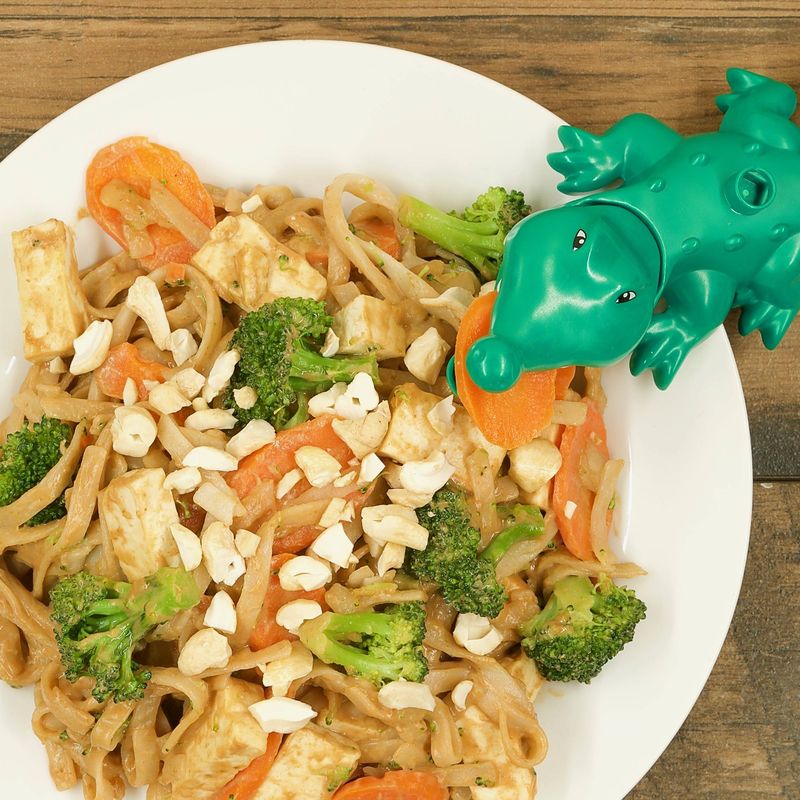 It's fun trying different Pad Thai dishes at veg restaurants, but we often find the dish to be too salty, or too sugary, or too oily. So, I decided to try concocting our own homemade version. It definitely isn't your typical Pad Thai, but hey, I wanted to create a healthy version that we can devour often and feel great after! And feel free to adjust the seasonings in the sauce to make it your own. Enjoy!
Sauce ingredients:
Juice of ½ lime
1 ½ Tablespoons soy sauce
5 medjool dates
1 Tablespoon tamarind paste
¼ cup peanut butter
½ cup water
Directions:
Place all the ingredients in a blender, adding a little water to start, and blend until smooth. Add as much water as needed to create a smooth consistency (texture of molasses).
Set aside until stir fry is done cooking.
Stir fry ingredients:
10 oz. brown rice pasta (pad thai noodles or spaghetti)
2-3 cups chopped veggies (i.e. carrots, broccoli, etc.)
10-12 oz. firm tofu (cubed)
1 Tablespoon toasted sesame oil
¼ cup chopped nuts (i.e. cashews, peanuts, or almonds)
Directions:
Cook pasta according to directions. Strain and rinse with cold water. Set aside.
While pasta is cooking, add sesame oil, veggies, and tofu to skillet and stir fry on medium heat for 10 minutes (or until veggies are cooked to your liking). Add a little water to skillet, if needed, to keep veggies from sticking to the skillet.
Once veggies are done, add pasta and sauce to skillet, mix together, and heat thoroughly.
After serving, top with chopped nuts.
Yields: about 4-6 servings